Admissions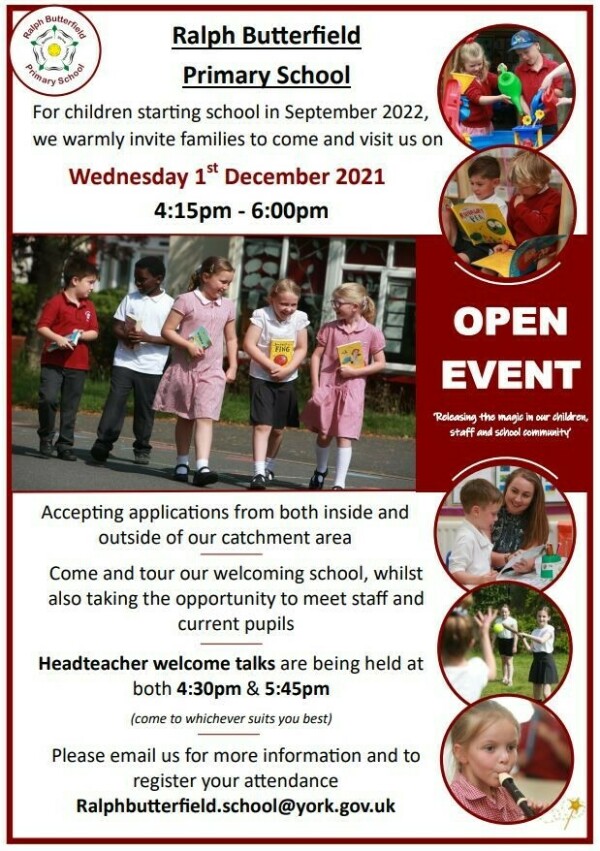 I have been part of the school community for nearly 4 years now and what a privilege it has been! The passion and drive that the school embraces makes me proud to be the Chair of the Governing Board. I hope you enjoy visiting this wonderful school. Not only is it in the heart of the community, it is a place that encourages the best in everyone and a school, within which, that children feel they belong.
Philip Newton
Chair of the Governing Board
The Curriculum at Ralph Butterfield Primary School
Alongside our daily delivery of a high-quality curriculum, we are also making exciting changes in designing a curriculum that is even more engaging and inspiring for our children, with lots of 'hands-on' learning and enrichment experiences. We want our children to have numerous, varied, exciting and fun ways in which to explore subjects with a sense of awe and wonder. Meaningful links are made across subjects wherever possible with half-termly or termly themes that enthuse and motivate; the theme driver may be geography, history, science or a wonderful book. Subjects are taught progressively within each year and across the years, so that children build up their knowledge, skills and understanding in a logical, 'building blocks' way. Developing the curriculum is a key priority on our school development plan, which is always shared with all parents/carers. You can learn more about specific subjects by clicking on the link below. 
Special Educational Needs & Disabilities (SEND)
We are passionate about, and committed to, meeting the specific needs of each individual child. Our curriculum is fully inclusive and a wide range of teaching strategies and methods of providing support are used to make sure every child can thrive, whatever their need. We are really proud of the SEND (Special Educational Needs and Disabilities) offer we can make, particularly after investment over the last 18 months in up-to-date training for staff, the latest evidence-based interventions and a significant increase in teaching assistant and SENDCO (SEND Leader) time and capacity. Our SENDCO has no class responsibilities and is solely dedicated to supporting our children with SEND, and their families. If you would like to read more about our SEND offer, please click on the link below.
Our School Vision & Development Plan
Here at Ralph Butterfield Primary School we are never complacent as we always look to improve further, continuously developing what is already excellent provision for our children. If you are interested to learn more about our current school development priorities and our vision, as we move forward together, you can view these below.
Feedback from Children and Parents/Carers
We hope that you have enjoyed learning a little about everything our wonderful school, Ralph Butterfield Primary School, has to offer. We thought that you may like to see what some of the people who benefit from our school every day, have to say about us.
Can we Help?
As mentioned in the Headteacher's welcome video, it is really important to us that our parents/carers feel fully engaged, welcomed and valued as part of our school community. Parents/carers are encouraged to contact us whenever and as frequently as they would like to, in addition to our staff proactively working together with parents/carers for the best benefit of the children. We would like to extend that invitation to you also. If, after having watched and read the information provided here, you are still left with any questions, please don't hesitate to contact us using our dedicated email address for this purpose (below). We will endeavour to respond to your query within 48 working day hours. 
admissions@ralphbutterfieldprimary.co.uk
How to Apply for a Place at Ralph Butterfield Primary School
Each year the Local Authority (LA) provides places in schools for children in the City of York. The LA have put together a guide to explain how they can help you through the school admissions process, what you need to do in order to apply for your child's place and, in turn, the actions that they then take. You can access the guide below. 
York Council Guide for Parents
The national application deadline is 15th January 2022 and you can access the 'Parent Portal' via the following link.
"A brilliant school that couldn't do much more"